Ron Nelson's Best Sight Fishing Tips
The 2019 FLW Tour Rookie of the Year, Ron Nelson, has continued his hot streak into the 2020 season. Amid the current pandemic and after 4 events, Nelson finds himself on top of the Angler of the Year race making him one of the hottest anglers in the country.
Nelson grew up in a state known for pristine water, Michigan, chasing smallmouth and largemouth bass. For many, clear water is intimidating, but what Nelson shares about sight fishing should help anglers across the country catch more of the bass they see cruising on their favorite waterways.
As discussed in "How to Catch Spawning Bass," sight fishing is a dominant pattern whenever the bass get on their spawn beds in the spring, but sight fishing can play during other seasons as well. Opposed to bass defending their eggs during the spawn, sight fishing in other seasons is what it suggests: seeing a fish and then tempting it with a lure.
"It really comes down to the behavior of the fish." Nelson reveals about determining how to catch a fish he sees, "If I see a bass that is clearly foraging for a meal and is not scared of my presence, I cast towards it with a bait that best reflects what it is eating. However, if I spooked it and it is moving away from me, then I let it calm down before casting."
The boat can ruin opportunities before making a cast, so keeping disturbances in the boat to a minimum. Nelson suggests, "Whenever shallow, I minimize the noise of the trolling motor, turn off electronics, avoid loud clothes and sounds."
Once spotting a wandering bass, "It is critical to keep outside of their 'cruising lane.' Study its route. Pushing them out of it is the worst thing that you can do." Nelson watches where the bass goes and when he feels the fish is settled, he will cast baits towards it. "Almost always, the bass is going to structure that it feels comfortable around. Across the country, most fish are eating either bluegill, shad, or crawfish. If I see one of those present, I'll cast baits that mimic it."
Sight Fishing for Smallmouth Bass
"There is a big difference between Smallmouth Bass and Largemouth Bass," Nelson asserts. "Smallmouth come up shallow for 2 reason: to spawn or eat. In each case, they're aggressive. Largemouth will often be inactive in shallow water."
"My number one bait for smallmouth bass is a Ned Rig," shares Nelson. "The Ned does a good job mimicking crawfish and gobies. If I know they are chasing bait, I'll switch to a swimbait."
It's important to read how they react to the retrieve. He explains, "With a Ned Rig, I'll start by tossing it by them and either deadstick or shake it in place. If that gets a negative reaction, I try something different. There will be a pattern, but that pattern can change throughout the day."
Expert Tip: "After catching a few, they will scatter, but they will regroup, so come back later and you can usually catch more. Something held those fish there, and they're likely to stick around or more will come later."
Sight Fishing for Largemouth Bass
The Ned Rig is not Nelson's first choice with largemouth bass because, "Big largemouth want a bigger meal." However, he sticks with a finesse approach, "My first choice is a finesse worm. A finesse worm appeals to both aggressive and neutral largemouth."
Prevalent structure determines how he rigs it. "If I can, I will rig it wacky style, but if that is going create constant snags, I'll Texas rig it." When in deeper water and the fish are along the bottom, he will add a weight to it.
"Like smallmouth, it is important to read how they react. Sometimes Deadsticking it on the bottom is the best retrieve, while other times it is best to let it sink slowly and then pop it before hitting bottom.
Expert Tip: "Pay attention to the baitfish in the area. If you notice they are looking up, then topwater can be a great choice."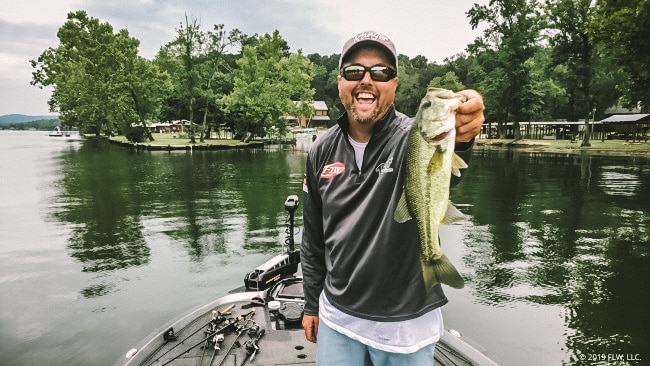 There are times when Nelson uses bait casting gear, "If bass are eating bluegill, I will have a Berkley Pit Boss bait ready to throw as an alternate to the finesse worm. If they hunker down in grass, I'll pitch a jig to them."
He loads his bait casting reel with 16-pound fluorocarbon line. "Obviously, it is best to keep as far away as possible, which is why I use a 13 Fishing Concept C2 Casting Reel, because it casts a mile." He matches it up with a 7'1" Medium Heavy action 13 Fishing Defy Black Gen II rod.
Nelson's finesse worm of choice is a PowerBait MaxScent Hit Worm Magnum, and throws it with a 7'2" Medium action spinning rod with an extra fast tip. He fills the spinning reel with 8-pound fluorocarbon line. The same rod and reel combo is used for the Ned Rig.
If you are fortunate to see some cruising bass, follow the advice of Ron Nelson and add it to your day's total catch.
One of the key aspects of determining when to fish as a co-angler or a boater lies in setting personal goals. Whether it's about becoming a better angler, gaining more experience, or optimizing available resources, weighing the financial and time considerations is crucial. While fishing as a boater may come with its advantages, fishing as a co-angler provides multiple opportunities to compete and learn, often at a fraction of the cost.
Read More »
As I make plans for the new year and the upcoming tournament season, I can't
Read More »
I'm an average angler who loves to tournament bass fish. I left home to chase my dream of competing full time against the best anglers in the country. Most of the time I have no idea what I'm doing, and this is my behind-the-scenes story of life on the road, fishing, and learning a little something along the way.
Read More »
Comments