Keel Guard
Wear and damage to your boat's keel can break down its protective gelcoat finish, allowing water to reach and destroy the fiberglass laminates. Megaware KeelGuard®, the powerful abrasion-resistant protector, prolongs the life of your boat like nothing else.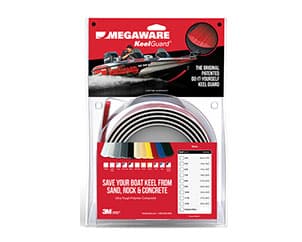 The Original Do-it-Yourself Keel Protector
Protect Your Investment Against Sand, Rocks, and Ramps
Megaware KeelGuard® Patented Engineering
Every aspect of the patented Megaware KeelGuard® has been designed with boat designers and 3M® engineers. Many factors contribute to its success. A precise, abrasive-resistant blend of polymers and urethanes achieve optimal durability and pliability. A pressure-sensitive adhesive creates strength, while permanently bonding and sealing Megaware KeelGuard®'s contoured edges to the hull surface. Angled grooves produce hydrodynamic channels, creating air pockets and providing a slicker surface. The perfect combination of these factors makes the Megaware KeelGuard® the easiest keel protector to install, and gives it unparalleled quality and dependability.
Megaware KeelGuard® Colors and Sizes
Megaware KeelGuard® comes in 11 great looking colors to match virtually any boat. All colors are UV-stabilized for true color that lasts a lifetime. Megaware KeelGuard® is available in nine standard lengths or can be ordered in custom lengths.
| Keel Guard | Boat Size |
| --- | --- |
| 4 ft | Up to 14 ft |
| 5 ft | Up to 16 ft |
| 6 ft | Up to 18 ft |
| 7 ft | Up to 20 ft |
| 8 ft | Up to 22 ft |
Keel Guard
Boat Size
9 ft
Up to 24 ft
10 ft
Up to 26 ft
11 ft
Up to 28 ft
12 ft
Up to 30 ft
Call 801.334.5335 to Order a Custom Length
Protect Against Abrasive Sand, Rocks, Concrete Ramps and Oyster Beds
Eliminate Costly Repairs
Enjoy the Highest Quality and Superior Engineering
Increase the Value of Your Boat
Megaware guarantees this Megaware KeelGuard® (to the original purchaser), against abrasive wear and adhesion failure during normal use of your boat, for as long as you own your boat.